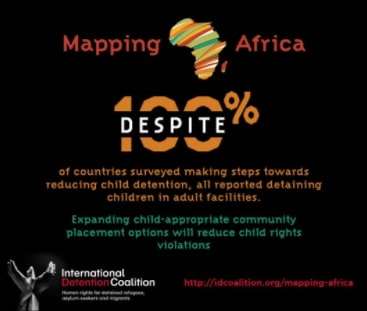 Much has been written about the wide, open plains of Africa; the stillness, the sense of time, the sense of space.
And yet it is a part of the world that copes with some of the largest numbers of people migrating. Sub-Saharan Africa hosts more than 26% of the world's refugee population – that's a mind-boggling 18 million people.
Stuck in limbo between two worlds, so many of the people I have met are in search of some of lives simplest elements: a place to live, to love, to be free.
Sadly, it's also a part of the world that detains many children.
This recent report by the International Detention Coalition reports that 100% of countries surveyed not only detain children, but they detain them in facilities with adults who are not related to them. It's a really worrying fact, as this exposes children to abuse, exploitation and an array of risks that no child should have to experience.
This year, I was lucky to be part of a small team from the International Detention Coalition who visited South Africa, Zambia and Malawi.
We were there to support the fifteen States across Africa who committed to developing and implementing alternatives to detention for migrants at the 2016 Migration for Southern Africa Dialogue (MIDSA).
In each country we had an opportunity to meet with campaign supporters and to strategise about how our work can complement the work that is already underway to develop alternatives to detention for children.
Alternatives to detention are more affordable, effective and more humane. Alternatives really are the answer when it comes to ending child detention : while laws can end child detention, it is alternatives that enable children's rights to be respected and protected.
I was impressed by the significant work underway to develop alternatives in the countries I visited. One example that I found really exciting was the National Referral Mechanism which provides guidelines to identify vulnerable groups like refugees, victims of human trafficking and children, to ensure that they are not detained unnecessarily or for prolonged periods.
It's basically this small book, which provides much needed information for border guards, police, members of the judiciary etc – basically the front line workers who engage with migrants. It outlines assistance that is available for vulnerable migrants and, crucially, promotes coordination of national stakeholders so that protection can actually be provided by the right people with expertise.
Inside the book, you'll find a poster that can be removed, ready to adorn the walls of your workplace. There's also a series of infographics. At first glance, they are a bit complicated – but for those who understand the content, they are a really helpful way to help people navigate a complex migration system.
So what does all of this have to do with children in detention? And why on earth was I so excited by this book?
This small, unassuming book contains the power to prevent children who are travelling without their families (unaccompanied children, is the technical term used) from being placed in detention.
Detention is harmful for all people, but it is especially harmful for children.
Many of the advocates that I work with feel the negative impacts of detention throughout their entire lives. Detention is traumatizing, and that is trauma that stays with you, and in moments you never expect, it surfaces, derailing people from being able to live productive, healthy lives.
This tool, produced in large part due to the excellent work of IOM Zambia, provides a way to make a better future for these children.
Of course, children who migrate with their families are still detained in Zambia. And that's not up to international standards and needs to change. But a tool like this one shows that it is possible to strengthen systems to prevent harm, even in countries that have relatively little in the way of resources.
If you would like to know more, get in touch: [email protected]
https://endchilddetention.org/wp-content/uploads/2017/08/blog-pic.jpg
311
367
Mia-lia Kiernan
https://endchilddetention.org/wp-content/uploads/2018/06/Artboard-1.png
Mia-lia Kiernan
2017-08-21 11:23:55
2018-08-23 12:43:52
One Little Book Can Lead to a Whole Lot of Change