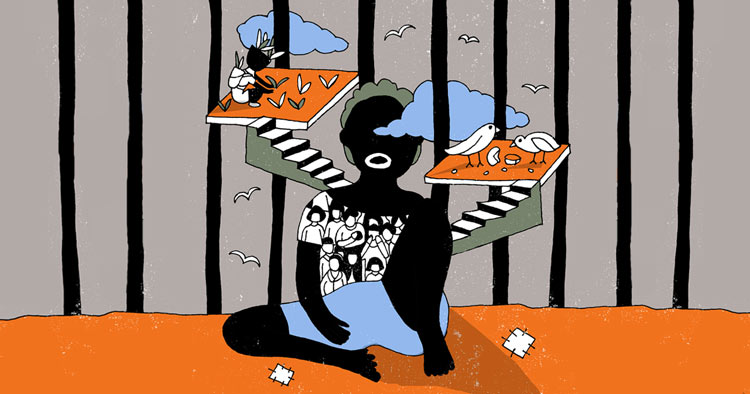 Over the past 12 weeks we have been commemorating the five year anniversary of the Global Campaign to End Child Immigration Detention. We thank you for celebrating with us, and for your commitment to the rights of children and social justice. We are proud to be part of a growing global community working to cherish the humanity and dignity of children! 
Since Monday June 12th, we have been sharing a weekly series of Blogs, Artworks, and Newsletters to commemorate five years of the Global Campaign. We hope these materials can continue to create connections and opportunities in preparation for the next chapter of this movement to #EndChildDetention.
Please view our full Anniversary Collections, and feel free to share them as resources and tools:
Gholam Hassanpour is a global campaigner, and was once an unaccompanied minor on the move. In June, he went to the United Nations Human Rights Council to tell his story and shine a light on the fate of refugee and migrant children undertaking perilous journeys on their own. READ his testimony.
I want to stress that throughout the course of our journeys, the lives of unaccompanied children are in great danger. Smugglers, traffickers, border guards, police, or even fellow travellers take advantage of us, and everywhere I've been, I've witness children become the targets of violence, exploitation, rape and abuse. There is still much work to be done if we are to make real progress for the protection of unaccompanied children.
Mariane Quintao is a global campaigner, who was once detained as a child. In June, she testified before a Thematic Session on the United Nations Compacts. She shared her story, which represents the story of many around the world, and shared critical recommendations. READ her testimony.
I think my story demonstrates how States are more concerned with protecting borders then protecting children or human rights. When families want better opportunities to work, to live together, to send their children to school, to contribute to society, they are often prohibited from doing so because of migration laws that simply make it impossible.
Pinar Aksu
is a global campaigner, who was detained with her family in Europe. In July, she testified before the Parliamentary Assembly of the Council of Europe (PACE) Committee on Migration. She shared her commitment to ending child detention in her new home, and around the world.
READ
her testimony.
Firstly, it is important to create local and national campaigns and networks of support which provide true stories to reflect the human side of the process of seeking asylum. Secondly, it is important to have a strategy to engage politicians and all of the arms of a government system. Thirdly, child rights organisations need to do more by consistently using evidence and international instruments and treaties.
In July, we release a Global Map of Action highlighting advances in alternatives to detention around the world. Please continue using it to see what's happening in your region, and get ideas for strategy and collaboration to #EndChildDetention in your country today!
We are excited to announce an important upcoming initiative of the Global Campaign! We will be working with partners around the globe to develop Scorecards that will be used to track individual countries, and compare work undertaken by governments towards ending child immigration detention. It will assess country laws, policies, procedures, international obligations, political commitments and crucially, implementation in relation to the detention of children.
After countries are assessed by committees, the results will be released publicly in early 2018 at endchilddetention.org. These scorecards will also come with tailored recommendations for how each country can improve their scores. 2018 will become the baseline, and each year the scorecard will be updated. We believe the Scorecards will serve as important measures to hold countries accountable, and encourage governments to make real change to end child detention. We are excited to share this work with you as we move forward!
https://endchilddetention.org/wp-content/uploads/2017/09/Dakarai.jpg
394
750
Bella
https://endchilddetention.org/wp-content/uploads/2018/06/Artboard-1.png
Bella
2017-09-04 17:07:04
2018-06-22 16:22:00
Thank you for #5YEARS of the Global Campaign!