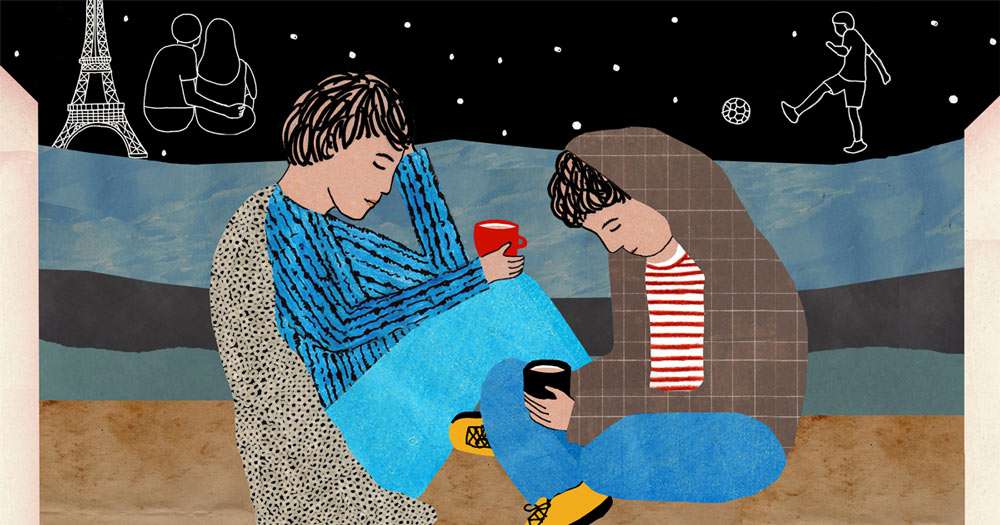 By Bella Saltiel & Kavita Kapur
As a child on the move you get used to living in rough places. 'There were days when the smugglers didn't give us any food or water, when we had to sleep outdoors or in overcrowded vans, just to make sure the police didn't catch us' said fifteen-year old Omar*, recounting his journey to the informal camp in Greece where we had met. 'They charged us money for everything, even when they knew we had no money. We had to share whatever we had with one another.' In the camp, this meant sharing a tent with ten other young boys, some of them strangers and others who had become friends along the way. The tent was small and the boys slept close to each other to save themselves from the cold. In the dark, they shared food, phone credit, and stories of relatives and of home. Forced together due to difficult circumstances, the extent of their journey defies the imagination of anyone who has never had to contemplate leaving their own country in order to survive. Amidst stark conditions in their home country, these children – and more often, their families – made the difficult decision to undertake an arduous journey of fourteen hundred miles across the Iranian plateau and the mountain ranges of Anatolia,  fleeing from border guards and village policemen, only to tumble into a leaky rubber dinghy bound for Greece where the promises made by the fixer back home in Pakistan, of a shining Europe with open doors, were to come crashing down. Their first night in Greece, as they tried to rest in their tent, Omar and his friends were abruptly woken by the sounds of a scuffle as the Greek police forced a man sleeping nearby out of his tent and into a waiting police van. They lay awake, too afraid to utter a word.
There are many problems with the current system in place in Europe, a system that effectively pre-judges claims to asylum based on nationality rather than the individual circumstances of the asylum-seeker, a system which rigidly clings (although often strays) to that narrowest reading of European and international law. But one of the most difficult is that this system treats countless men and young boys – and to a much lesser extent, women and girls –  as nothing more than 'illegal' migrants in Europe, based simply on their nationality. Our arrival in Lesbos, Greece in mid-March 2016, coincided with the arrival of 500 Pakistani men and amongst them a group of children, all of whom were assumed to be  'economic migrants' and treated accordingly. The children and men had been refused entry to the island's formal registration camp, Moria, and thus denied access to the formal next steps – registration with the Greek authorities, authorization to remain in/transit through the country over the course of one month, and the opportunity to apply for asylum. Without access to Moria, the men and boys also lacked access to shelter, food, medical attention, and the other services that were being provided to Syrian and Afghan nationals, as well as other nationalities  who were treated as  'refugees.'
Just outside of the official registration centre, an independently run camp had evolved. The camp had at first been just a selection of tents erected by refugees in the olive grove next to Moria. But as more volunteers came to the island, as well as more refugees, the camp grew into what is now known, ironically as, 'Better Days for Moria'. In the space of months, volunteer organizers managed to erect several large tipi-style tents; a food tent to feed up to 1,500 people per meal; a fully stocked clothing distribution; an information centre that included helpful signs explaining the laws for asylum seekers in Europe and the Schengen area; a map of the route from the Greek islands to mainland Europe with instructions in Arabic, Farsi, Pashto and Urdu; toilets; as well as a tea tent, and even a pizza oven.
But, by the time we arrived in Greece that March, there was an apocalyptic feeling in the air. The careful organisation of the camp was starting to fall apart as the changing political landscape brought to light the limits of humanitarian support and foreshadowed the harsh realities of the European response to the refugee crisis. It looked bleak: the Pakistani men and children, who had not been allowed to register in Moria, began to peacefully protest. They protested being denied entry to Moria, being denied the authorization documents that would permit them to buy a ferry ticket to Athens, being denied the opportunity to file claims for asylum, and being denied information about what their fate would be. They protested the fact that for them, the island of Lesbos was an open air prison, without the possibility of escape. At 10 am each morning, these men and children gathered outside the volunteer-run information tent in a clearing surrounded by olive trees, carrying coloured banners. These desperate protests were vast; the men hailed from all areas of Pakistan and some stood up on podiums, articulating the pleas of the group in Urdu, Pashto, Punjabi, or other local languages, as well as English,  for the volunteers. They held up boards that read: 'Are Pakistani not human too?' 'Pakistani not treated human like Iraq and Syria' and 'UNO only for other nationality, not Pakistani'. These protests were, in fact, filled with love. The men chanted an ode to a continent that had rejected them: 'we love europe,' 'we love press,' 'we love volunteers' and, in pain, the camp volunteers formed a ring around them, all holding hands, shouting back, 'we love refugees'. This sad echo only seemed to reinforce what many of the volunteers already new: nothing would come from these invisible protests.  
All that followed was further disappointment. On the 20th March 2016, the EU and Turkey reached the infamous 'deal' aimed at stemming the flow of boat arrivals to Greece by, in part, penalizing those persons who arrived after that date by mandating they be returned to Turkey. In the absence of registration documents – which could have proved their arrival to Greece prior to 20 March –  these Pakistani men and boys were denied their rights to be processed according to the law in effect at the time of their arrival. They were ultimately deemed 'illegal entrants,' arrested, and detained inside Moria, which had since shifted from registration center to detention facility. Eventually, many of them were returned from Greece to Turkey without having the opportunity to express their needs for international protection, a right supposedly guaranteed by the text of the EU-Turkey agreement as well as basic principles of international law. Still others languished in Moria for months after, fighting daily for their right to seek asylum under the standard procedures and to have their cases taken seriously. Amongst this group of Pakistanis were members of religious minorities, including Ahmadis, Christians, and atheists; political dissidents and journalists; ethnic minorities, including from Kashmir and Balochistan; amongst many others who could undoubtedly substantiate claims for recognition as  'refugees.'  And of course, there were the children.
In the days after the EU-Turkey agreement entered into effect, the boys clustered alongside the adults and volunteers, waiting to see what would happen. Volunteers were on high alert, expecting that the police could arrive at any time to arrest camp residents. We stayed vigilant throughout the night, operating an around-the-clock monitoring in order to be present and observe, come what may.  The nights in Lesbos that March were cold, fog rose and disappeared into the oily darkness, frost encrusted the passing cars.  We kept the tea tent open until late and sat around outside drinking chai with a group of teenage boys, too young to fully apprehend the situation.  One boy we called 'Je t'aime' because he wanted to live in Paris and fall in love there. Every time we saw him around the camp he would shout dramatically 'Je t'aime!' and hold his arms out wide. Amid fits of laughter, he would explain to us that he was Casanova, adding that in Lahore, he was Ranjha, the mythical Punjabi equivalent. On this night, however, he and his friends were quiet. They missed their families. They wanted to know what would happen to them next. They wanted to know where they would go. But none of us had any  answers. 'Well, Allah has taken us this far,' one boy said, 'we will be allowed to stay.'  They all nodded in silence.
The next day, the police came for the camp residents. Slowly and in a painfully orderly fashion, the men filed into the adjacent center, bravely facing up to a completely uncertain fate. The boys were faced with the difficult decision of whether to announce themselves as unaccompanied minors, separating themselves from the adults and into a designated area of the detention centre while they would wait to be placed in one of the few minors' shelters on the island, or alternatively, trying to pass as adults in hopes that soon, the political landscape would shift and they would benefit from the same privilege of the thousands of men who had passed before them through this well-treaded gateway of migration – permission to travel onward towards Europe.
Without being able to make any promises, the volunteers shared whatever information we could with the children. Children were at least theoretically entitled to separate procedures and screening mechanisms, were equally entitled to apply for asylum, and should be housed in a shelter environment more suitable for children. They should have the right to study. Their age did not automatically entitle them to be able to stay in Greece, let alone move onwards in Europe. In any case, the special protections for minors would in all probability cease when they reached their eighteenth birthdays, a consideration particularly important for the older youth in the group. On the other hand, in the wake of the EU-Turkey agreement, it seemed highly unlikely that any Pakistani person would be given permission to travel onwards to mainland Greece or to traverse the country to enter into a bordering European country. While many asked about the possibility offered to them by smugglers and fixers of obtaining fake identity documents or hiding away amidst cargo on one of the various ferries that left the Lesbos port during the week. Their questions show the dangers of forced removal: fear, concealment, crime. We could offer absolutely no assurance that this would prove successful or that these serious violations of law and personal risks would get these boys to where they wanted to go.
Because there were certainly places where they wanted to go. 'Je t'aime', of course, had his heart set on France, but each boy had his own idea. One was heading to Italy, to join a brother who had been there for a number of years, working without authorization, but making enough money to send home to the family in Pakistan. Another was simply trying to arrive to Athens, where an uncle who had entered irregularly many years ago had finally managed to secure residency, and promised to house the boy while he studied. At least one boy had his heart set on Spain – a friend of his father's from Pakistan had migrated there a few years ago and although undocumented, had found work in a restaurant. More importantly, in Spain he would be able to watch all the football he wanted, and he was a big fan of FC Barcelona.
In general, the boys wanted to study and to work, to live in safety and security, to explore, as every child wants to, and for many of them, to eventually be able to support their families in Pakistan. They wanted to escape the grim reality that they lived in Pakistan, where many came from rural families that live in poverty as a result of massive wage inequality, from regions where rising violent extremism means that they could be killed by a bomb at any time, where land conflicts are violent and protracted, and where there was little prospect of a good education. They trudged along this seemingly-endless journey to Europe, which had exhausted grown men, animated by the picture presented to them by the fixers and smugglers: a Europe paved with gold, where all of the limitations they faced in Pakistan would dissolve with their first salary. Their families were sold at the possibility of giving their children a better future, and of having increased support, and many took out significant loans, often of around five thousand dollars, to pay the smugglers to get their children to Europe.
If some of the boys were uncertain or less vocal in telling us about their plans, it was because they were unwilling to jinx their dreams, the realization of which could maybe, just maybe, justify the horrific journey that they had survived, that they were still surviving. Others refused to speak their dreams,  having recognized by now just how unlikely they were to come true.
Once they were inside Moria, we effectively lost touch with these boys. It's unclear if all or some of them were recognized as children and afforded the relevant special protections, or if there even were any such special protections in effect. Some say they were forcibly returned to Turkey alongside hundreds of Pakistani men, because Greek authorities disagreed with their representations about their age. Others say they were given an opportunity to enter a local shelter, but that the asylum process was slow and they did not receive formal schooling. But what is certain is that these boys waited, alongside other children and adults, inside the detention center for many weeks or even months amidst appalling conditions, limited access to medical attention and information, violent outbursts, and food shortages. Many of them continue to wait in shelters or in other unstable and impermanent housing arrangements throughout the country. All of these boys remained far from home, but even further away from the better lives that they set out looking for.
We both left Lesbos by boat. Watching the island drift away into the distance, becoming ever smaller, it was impossible not to imagine the men, women, and children who had seen a similar sight. Europe was a small grey lump in the ocean growing ever closer just before they hit the shore not realizing that the deep blue waters around them would soon become the walls of their new prison.
* Names have been changed to protect confidentiality
This blog post is part of the Five Year Anniversary Series commemorating the Global Campaign to End Child Immigration Detention. For more information and to get involved, please visit endchilddetention.org 
https://endchilddetention.org/wp-content/uploads/2017/06/Monann_Pakistanboys_Facebook-1.jpg
525
1000
Bella
https://endchilddetention.org/wp-content/uploads/2018/06/Artboard-1.png
Bella
2017-08-14 10:32:26
2017-08-14 11:46:11
Children On the Move in the Midst of the EU-Turkey Deal